The easiest way to online your practice.
Awesome practice management for therapists and coaches.
The new iCouch is arriving this summer and it will make you cheer.
Here's a sneak peak of what iCouch will do for you..
Online Therapy
iCouch is best way to have secure online therapy sessions with your clients.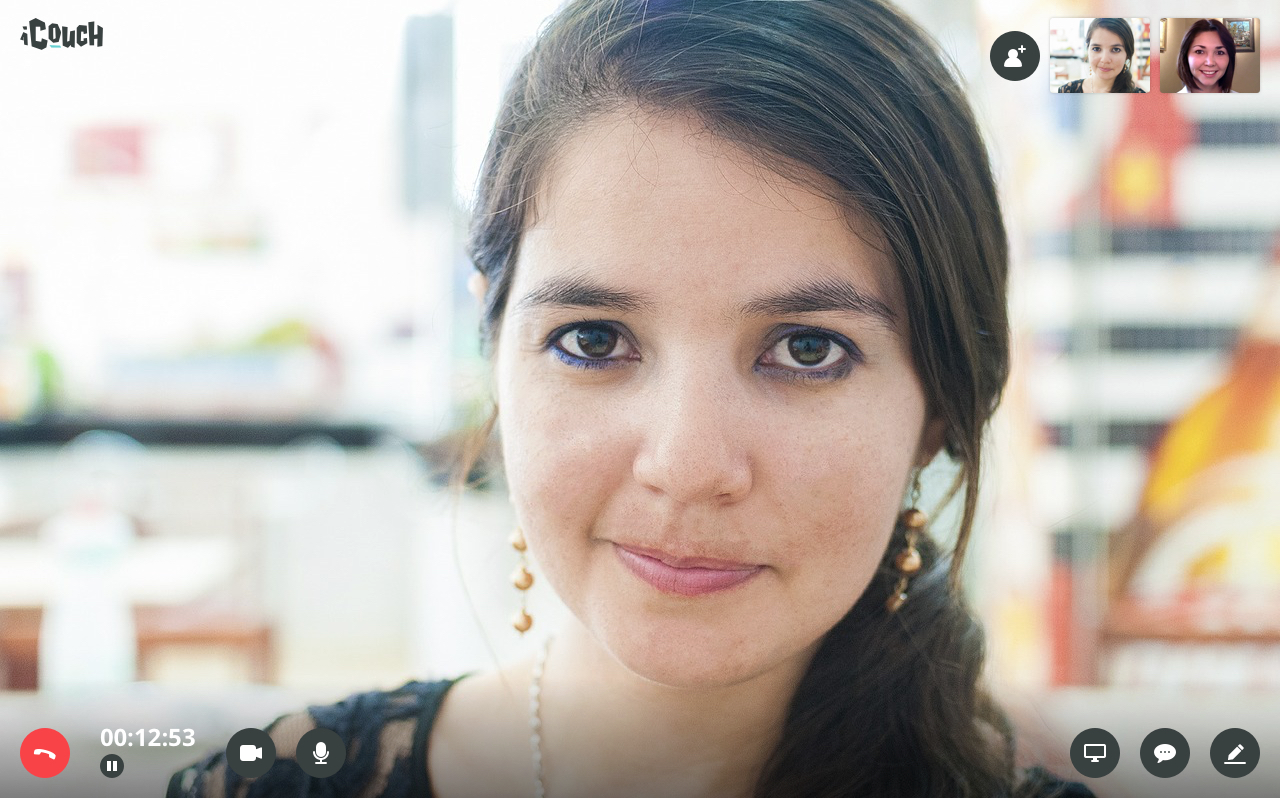 iCouch is more than just the best HIPAA compliant video conferencing.
You can manage your entire therapy practice with iCouch.
Incredible Video Sessions
High quality, highly secure video conferencing to make online therapy simple
High quality audio and video with no downloads
Have multiple participants, up to 25 people at once!
In-session billing: instantly request a credit card payment from participants
Screensharing
Text chat
Private session notes (even use templates!)
Full moderation controls
Encrypted and secure
Audio and video muting
Session timer only visible to you
Seamless Desktop, iOS and Android experiences
Booking Calendar
It's the best booking calendar you'll ever use.
Set availablility for each day.
Have control over last-minute bookings
Set vacation periods
Sync with Google Calendar (automatically prevents schedule conflicts!)
Enforce cancellation policies automatically
Set booking deposit rules
Automatic SMS and email appointment confirmations
A beautiful, intuitive design
Set different prices for different types of sessions (including sliding scale!)
Embed your calendar securely within an existing website
Client Management
Manage your clients and cases brilliantly.
Securely manage clients and cases
Search client records instantly
Log phone calls and messages
Create treatment plans
Manage diagnoses, including ICD-10 code lookups
Document and File Management
Dream up the perfect document and file system -- that's iCouch
Create text documents with WYSIWYG simplicity
Create and use document templates
Use iCouch-provided templates for common forms such as SOAP, Gilman HIPAA and more
Create electronically signable documents
Use document collections to quickly organize commonly used documents
Clients can automatically receive intake documents when they book an appointment
Clients can legally sign documents on their computer or mobile device
Easily share documents and templates with clients or other practitioners
Upload files, including scanned paper notes, images, even audio or video
Import documents from MS Word, export to Word or PDF for easy printing
Payments and Invoicing
iCouch makes it easy to get paid and manage your practice finances
Accept Credit Cards with a low 3.1% fee
Your bank account is connected: get paid directly within 3 days
Issue refunds, handle disputes right from within iCouch
Manage cash and check payments
Charge clients and get paid in your preferred currency
Create discount codes to incentivize new business and reward loyalty
Clients can pay easily from any device
Send automatic overdue notices
Use powerful analytics to instantly understand your financial situation
Export charges, transactions and invoices to Excel
Your Public Profile
Your practice homepage: beautiful and SEO perfected
Add any kind of sections you want: education, specialties, photos, videos and more
Create additional profiles in multiple languages
Clients can view and book from your calendar or send you secure inquires right from your profile
Be as public or private as you want: you control what's published
Get discovered
Your profile is searchable by potential clients looking to find a therapist.
Potential clients can search for you based on multiple criteria
Tap into the thousands of daily visitors looking for a therapist just like you
Secure Messaging
Never use email again: two-way secure messaging makes it easy to communicate with clients
Intuitive inbox system -- just like you're used to already
Clients and potential clients have their own inbox
Messages can be added to cases to keep client communications organized
Reminder System
Reduce missed appointments without even thinking about it
Manually or automatically schedule appointment reminders
Remind anyone anything through SMS and email
Blogging
iCouch makes it easy to have a therapist blog!
Create posts and increase your inbound marketing effectiveness
Become a thought leader and have clients come to you
Social Media Management
Manage your professional Facebook and Twitter accounts
Create and schedule Tweets and Facebook posts to engage potential clients
Boost your practice visibility with just a few minutes a day on iCouch
Todo lists
Keep organized and never forget anything
Create todo lists, complete items, set deadlines
You can even create todo lists to assign to your clients
Get email and SMS reminders when things are due
Monitor client progress on lists you create for them
iOS and Android apps
Your complete therapy practice -- on any device
Manage everything within your iCouch account on your mobile device
Have video therapy sessions anywhere
Powerful security features keep your data secure, even if you lose your device!
Organizations and group practices
Manage multiple users with ease
Control privilleges, limit features and consolidate invoicing
Have an organizational profile where visitors can browse your practitioners
Manage your group practice calendar
Custom domain support available
Powerful, beautiful secure
iCouch will blow your mind, change your life and supercharge your business.
It's that good.